Download and Install TWRP 3.2.0 on Android: TWRP (Team Win Recovery Project) is one of the most popular and one of the best custom recoveries available for Android. It is a touch-based recovery comes with various features such as a file manager and terminal emulator. It is one of the most used recoveries of all time that supports many official and unofficial devices.
With TWRP you can flash custom ROMS, modem and firmware files also you can backup and restore  your device. This happens by backing up the current ROM. Recently, TWRP gets a major update with many bug fixes and many new features. The new update, TWRP 3.2.0 has a complete new look, true terminal emulator, support Android 8.0 and now you can flash image files also.
With massive changes and huge improvements, android freaks are really excited to try out the latest version of this recovery. So here we share a simple guide on how to install TWRP 3.2.0 on Android Phones. There are various methods to download and install TWRP 3.2.0 on Android Phones, and here we share all of those so you can install using the most appropriate method.
How to install TWRP 3.2.0 on Android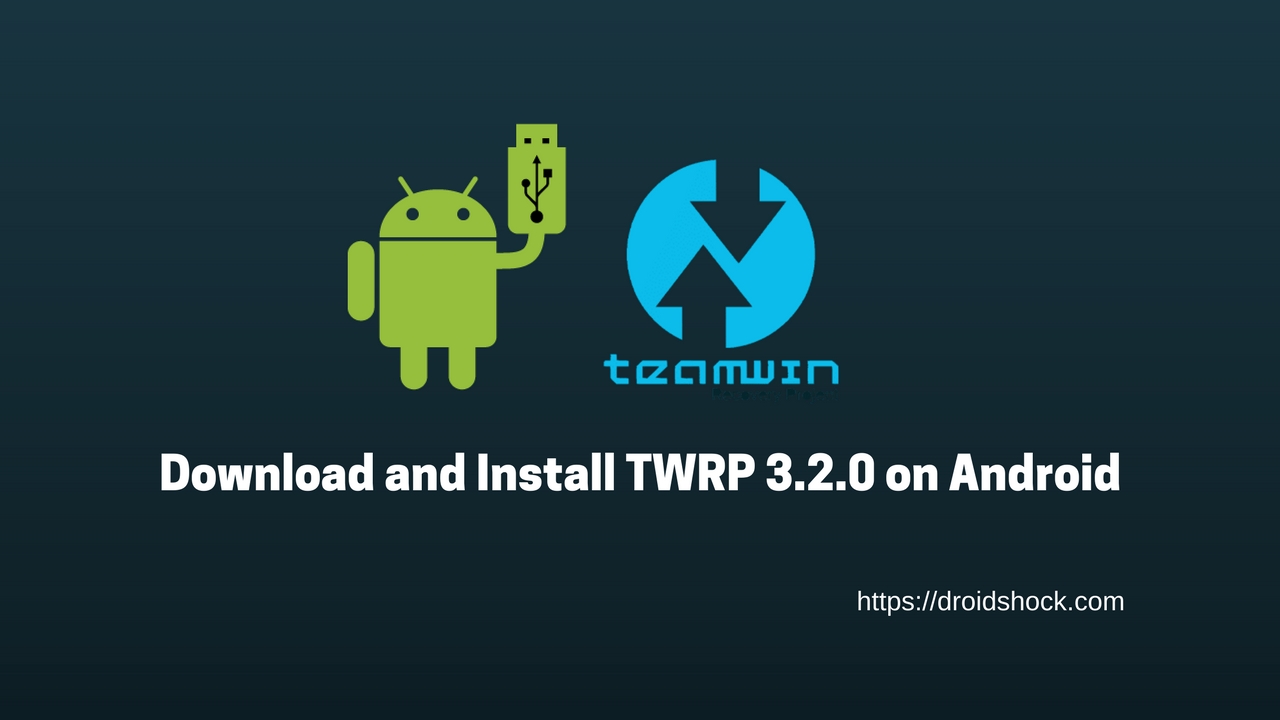 Method 1 
Install TWRP 3.2.0 Recovery via Fastboot –
1) First enable USB debugging from setting>developer option>. To enable Developer Options, go to About phone and tap the Build Number 7 times.
2) For this method, you have to install ADB and Fastboot on your PC first. Check this How to setup ADB and fastboot on Windows or Setup ADB and fastboot on Mac.
3) Download TWRP 3.2.0 image file, rename it to recovery.img (optional) and place it in a folder where adb and fastboot installed.
4) Now go to installation directory open ADB folder and open the command window there by pressing and hold the 'shift' key and right-clicked anywhere in that folder.
5) Now connect your phone to PC and reboot the device into fastboot mode by typing "adb reboot bootloader".
6) Type "fastboot devices" in command prompt and hit enter, it gives you serial numbers in return means your phone connect properly.
7) Type this command correctly in command prompt "fastboot flash recovery recovery.img" and then press enter. It will update TWRP recovery to v3.1.0.
8) Now type "fastboot reboot " in command prompt it will restart your phone.
Method 2 
Flash TWRP 3.2.0 zip file from Recovery –
For this method, you must have rooted phone and custom recovery installed.
Download TWRP 3.2.0 zip file.
Reboot your phone into Recovery mode by pressing a combination of buttons.
Now in recovery mode select the 'twrp.zip' and swipe to flash the recovery.
That's all, and this is the complete guide of how to install TWRP 3.2.0 on Android Phones. With the help of above all methods, you can easily download and install TWRP 3.2.0 on Android.
If you have any questions from the above tutorial, let us know in the comments below. We'l be glad to help you out.